Leviat, a CRH company, is a global leader in connecting, fixing, lifting and anchoring technology for the construction industry.
Leviat's engineered products and innovative construction solutions are used in a variety of market segments from residential to infrastructure, enabling users to build better, stronger, safer and faster.
3 000
employees
+60
sites worldwide
4
production on 4 continents
+30
sales in +30 countries
Case studies

Project CAR-T in Zwijnaarde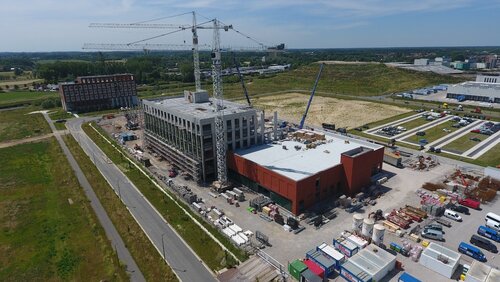 Building a healthier future together. Together with our customer Vanhout, we are building a new production facility and a warehouse for CAR-T cell therapy, located in Zwijnaarde.

15. April 2021
We are particularly proud to announce that our MBT sleeve has received the AFCAB certification.
Read more
A solution for your construction project
We imagine, model and make engineered products and innovative construction solutions for a dynamic industry. We support our partners in the long term to build better, safer, stronger and faster and help turn awe-inspiring architectural visions into reality.
You are looking for a constructive solution for your project:
ADIM et Sogea Caroni
Open'R à Villeneuve d'Ascq
ADIM Nord-Picardie and Sogea Caroni, both subsidiaries of VINCI Construction France, have started the Open'R project in Villeneuve d'Ascq (Nord). This building will house 17,500 m² of offices, 890 m² of shops and 500 parking spaces.
Read more
China-Belgium Technology Center
CBTC à Louvain-la-Neuve
The China-Belgium Technology Center (CBTC), located in the UCLouvain science park in Louvain-la-Neuve, is the result of a collaboration between Hubei province of China, AWEX, UCLouvain and inBW.
Read more
A question, a project?
Contact us