Leviat, a CRH company, is a global leader in connecting, fixing, lifting and anchoring technology for the construction industry.
Leviat's engineered products and innovative construction solutions are used in a variety of market segments from residential to infrastructure, enabling users to build better, stronger, safer and faster.
3 000
employees
+60
sites worldwide
4
production on 4 continents
+30
sales in +30 countries
Novia barracks at Namen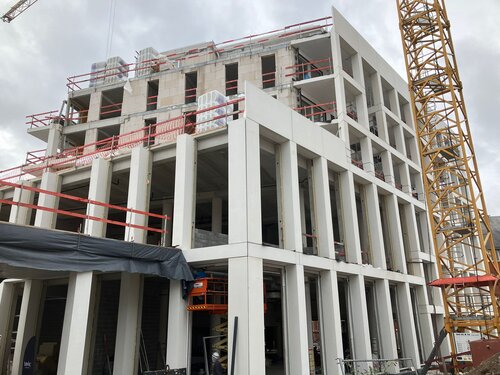 A nice piece of military past incorporated into a new neighbourhood where Leviat could do his bit with lots of different solutions.

15. April 2021
We are particularly proud to announce that our MBT sleeve has received the AFCAB certification.
Read more
A solution for your construction project
We imagine, model and make engineered products and innovative construction solutions for a dynamic industry. We support our partners in the long term to build better, safer, stronger and faster and help turn awe-inspiring architectural visions into reality.
You are looking for a constructive solution for your project:
Thomas and Piron
NOVIA BARRACKS NAMUR
In Walloon, 'novia' means new. And in this case, Novia is a new residence. On the site in Rue du Premiers Lanciers, Novia is being built, a new neighbourhood on the car park of the former barracks. To preserve the glory of the old military past, the old gate is still part of the neighbourhood.
Read more
Artes - Depret
Offices ACV at Roeselare
In the heart of Roeselare, the ACV is constructing a brand new office building with an accompanying underground car park. A BEO field under the garage's foundation plate must provide heating in winter and cooling in summer. In addition to the BEO field, inspiring masonry work is also involved and we…
Read more
Cordeel
Business Park at Strombeek-Bever
With the Atomium in the background, we are realising future-oriented office buildings together with our customer Cordeel. An iconic new construction project with a focus on sustainability. For this project, they called upon our technical expertise and broad portfolio of solutions. To meet the…
Read more
A question, a project?
Contact us