The MBT joining sleeve is a mechanical link between two reinforcement bars with a diameter of between 12 and 40 mm. Assembly is recommended particularly where continuous reinforcements are required but which, for technical reasons, can be performed one time only. For example, in the case of concreted bars to be laid flat or when assembling prefabricated reinforcement cages.
Benefits

No overlap, therefore saves on reinforcements and space
The ends of the reinforcement bars do not require any machining
The bars must not turn to enter the sleeve
Possibility of joining bars already cast in place
MBT sleeves can be used to link smooth reinforcements as well as high adherence reinforcements
Possibility of joining bars of different diameters (e.g. 20-25, 25-32, etc.)
LEVIAT technical advice
Once the sleeves have been placed properly, the equivalent of a continuous bar is obtained. The breakage load exceeds by 15% the elastic limit of a B500B class steel.
+
MBT sleeve models

2. MBT MR: The MR sleeve allows the linking of bars of different diameters. It has the same benefits as sleeves of the ET series while also allowing to obtain a breakage load exceeding 115% of the elastic limit for class 500 steel.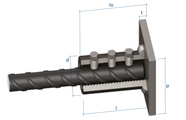 3. MBT HA: HA anchors are used to reduce the density of steel reinforcements in the anchoring zone of a concrete element, and simplify the fitting of armatures while avoiding anchoring by creepers. This type of anchoring is made of an ET series half sleeve, welded to a plate transmitting all the loads to the concrete. The additional benefit of the HA anchor is that the tips of the bars must be free of a net or any other particular machining.
Project carried out with this product:
BNP Paribas Fortis Bank
an emblematic project carried…
Our challenge : offer a technical solution for creating thermal breaks between columns and floor slabs: the load to be…
Discover the case study