Open'R à Villeneuve d'Ascq
ADIM Nord-Picardie and Sogea Caroni, both subsidiaries of VINCI Construction France, have started the Open'R project in Villeneuve d'Ascq (Nord). This building will house 17,500 m² of offices, 890 m² of shops and 500 parking spaces.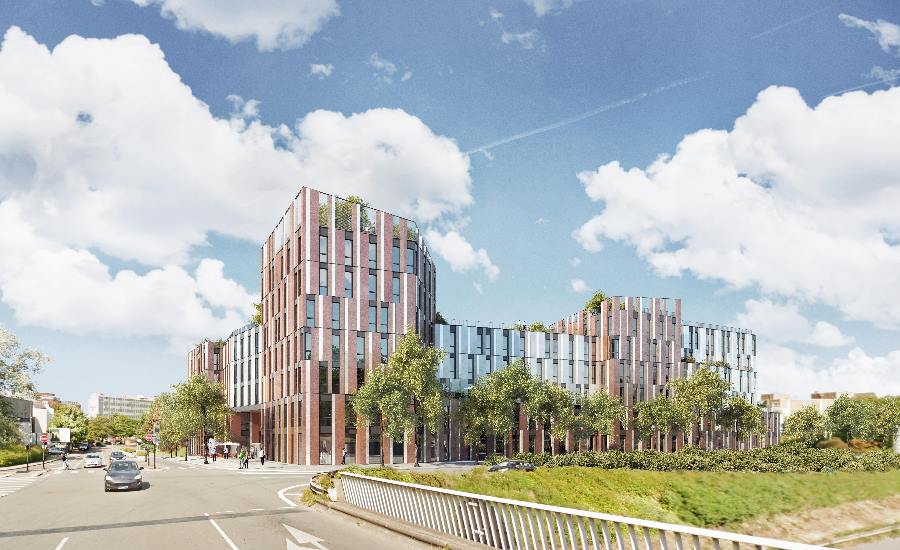 The Project
Designed by the architectural firm MAES Paris, Open'R will offer collaborative spaces adapted to new work trends, terraces accessible at every level, as well as roofs and green spaces to promote conversation and conviviality. It will also have three commercial zones, 500 parking spaces on three basement floors and a technical workplace.
This project is part of a strong environmental approach and aims for BEPOS and BREEAM EXCELLENT certifications, which will make it a benchmark in the European metropolis of Lille (MEL). The energy performance of the building envelope will meet the requirements of RT 2012, improved by 40%. Thanks to the installation of photovoltaic panels, Open'R receives the label E3 according to the BEPOS Effinergie 2017 scale.
Solutions of Plaka and Halfen to meet the different challenges
DWG Foot system for one-sided formwork
The challenge was to make one-sided formwork in metal shutters. Several meetings were organized with Vinci's "Method" department to define the best possible implementation with the DWG Foot system (anchor holder for one-sided formwork). We have made a calculation and dimensioning of the anchor rods and their mutual distance to guarantee the resistance to concrete pressure.
Tetraform type 3050 with Waterstop seal
We had to reseal an expansion joint with Tetraform 3050 and integrate a Waterstop seal. After presenting the full Tetraform range and the possibilities to process the expansion joint, the customer chose the 3050 system, which offers him the possibility to cast on both sides simultaneously and optimize his reinforcement.
Spacers in star-shaped PVC pipes cut to size + 5 cm ends.
We have made PVC spacers cut to the final size of the wall with 5cm ends to meet the wall requirements on this site.
AFCAB certified Stabox for seismic zone II building category III
The Leviat seismic Stabox thanks to its AFCAB certification and its production follow-up was implemented on this site and has allowed us to distinguish ourselves from other offerings in the market.
Plastic Premium profile / PVC / ZIG ZAG spacers
The range of spacers and formwork accessories are also used on this site with the advantage of the Plastic Profil Prémium in 30mm coating, which is known for its superior quality and has better resistance to seismic reinforcement in at least ST50C.
Read also
CBTC à Louvain-la-Neuve